History of the World Famous Sharky's
It all begins nearly 30 years ago when a true local "Beach Boy" Clark, and "The Shark" Bennett traded in his coat and tie, 9-5 bank job, for his dream of working in the sand. A kind of wingtips to flip-flops story.
Clark grew up working as a lifeguard on Panama City Beach, graduated from Florida State University (GO NOLES!), and started that 9-5 bank job, but he always knew he would somehow wind up getting his toes back in the sand.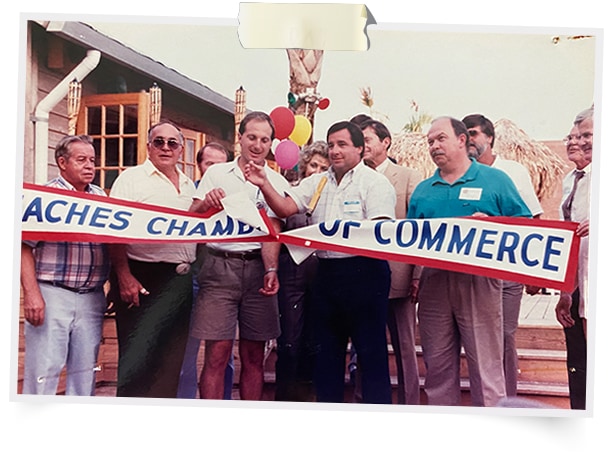 Sharky's original footprint on the beach covered just the area of the current oyster bar. It has now grown to over 15,000 sq. ft. of deck and dining. Over the years, millions have dined and danced on the worn wooden deck under the Tiki Hut. Speaking of the Tiki, Sharky's is home to the largest open-air "palapa" in the United States, constructed with over 100,000 cabbage palm fronds and thousands of cypress knees and poles. The "Tiki" has seen and survived no less than three Category 4 hurricanes, one Category 5 hurricane, and dozens of tropical storms, all with ne're a scratch. Over the years, Sharky's hosted many memorable open-air concerts featuring Rick Springfield, The Fixx, Meatloaf, Lynard Skynard, The Outlaws, and Kansas, just to name a few.
Clark passed away unexpectedly in 2007, but his passion lives on through his family and dedicated staff of well over 100. We have a goal of always providing a great time, enjoying fresh local seafood, and live entertainment while watching an unforgettable sunset… "Ahhhhh, life is good." As Clark, "The Shark" would say, kick back, relax, it's Tiki Time… No worries Mon!