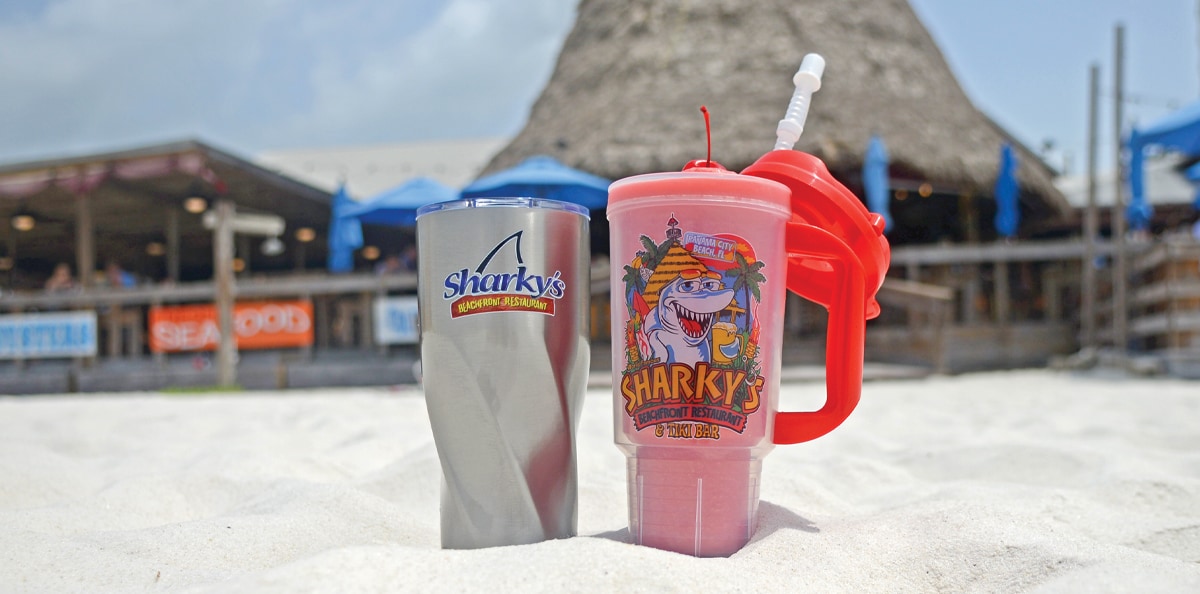 World Famous Shark Attack
Sailor Jerry Spiced Rum, Club Caribe Coconut Rum, Blackberry Brandy, & Tropical Juices. With 3 ounces of rum, it has a bite!
Sharkarita
El Jimador Blanco Tequila, Triple Sec, OJ, Sweet and Sour, & Lime Juice.
Summer Squeeze
Stoli Orange Vodka and Watermelon Liquor with Tropical Red Bull and a Fresh Squeezed Lemon.
Cherry Lime-ade
Cherry Vodka & Dixie Citrus Vodka with Sour Mix, Sprite, Grenadine & Fresh Squeezed Limes. It's the essence of refreshing!
Sharky's Sunset
Club Caribe Mango Rum, Soda, OJ, and a splash of Grenadine.
Raspberry Lemonade
Stoli Raspberry Vodka, and Real Raspberry puree mixed with Refreshing Lemonade
Something Good
Club Caribe Coconut Rum, Stoli Raspberry Vodka, Pineapple & Cranberry Juice with Sprite.
Endless Summer
Dixie Vodka with Watermelon Liquor, Pineapple Juice, Grenadine and Sprite.
Pineapple Upside Down
Wicked Dolphin Vanilla Rum, and Club Caribe Pineapple Rum with pineapple Juice and a splash of grenadine.
Walk on the beach
Dixie Vodka, Melon Liqueur, Peach Schnapps, & Tropical Juices.
ALL ALCHOHOL SALES ARE FINAL AND CANNOT BE REFUNDED OR EXCHANGED. YOUR UNDERSTANDING IS GREATLY APPRECIATED.